The lighting effects at RMCH needed a bit of a spruce up.  The cardiac staff asked if we could provide something to help with distraction therapy.  The projector that was in the room just wasn't positioned so a good image could be seen so with a bit of reflector wizardry the image can now be positioned anywhere.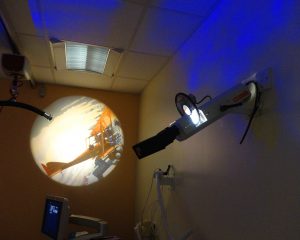 They had also asked for a star projector – it has moving green stars and a moving blue nebula cloud behind it.  This can be moved to other rooms if required too.
Finally we have bought a wonderful twinkly glove.  It has been admired by everyone who has seen it.
Many thanks to Betty, a hospital volunteer at Trafford General, and her fund raising friends "Betty's Babes", who heard what the staff had asked for and gave CHA the money to pay for the items.
Oh and in this bottom pic you can see the BP, O2 and ECG machine we bought earlier this year.