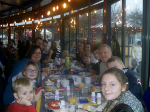 For ten families their Christmas started early with a magical trip to Disneyland Paris, thanks to the Children's Heart Association. On a cold and wet Friday morning the families met at Liverpool's John Lennon airport to be treated like royalty thanks to Val and the staff at the airport who had arranged a private lounge and priority boarding. The short flight to Paris was met with lots of excitement by the younger members of the party with one little boy shouting "Mickey Mouse come out come out wherever you are" as soon as the plane touched down on the tarmac.
Whisked away to the Sequoia Lodge Hotel with no time for unpacking, most families spent the remainder of the day exploring the Magic Kingdom, having tears on the way back to the hotel from children worried that it was the only time they would be getting in the park.
Day 2 got off to a terrific start with families meeting for a character breakfast at Café Mickey where a non-stop parade of characters came to the table for a meet and greet, much to the excitement of all the children. The highlight for many was the Saturday evening finale in the Magic Kingdom. Hundreds of people lined the parade route to watch the magic procession of coloured floats filled with favourite Disney characters, fulfilling all children's dreams of being waved at personally by their favourite character.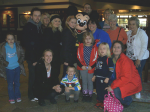 As ever all good things have to come to an end. Day 3 saw tired and weary children and adults alike pile onto a coach back to the airport. Amidst the chatter about who saw what and searching though bags of toys to show each other what souvenirs they were taking home, one lucky boy got to go home with the memory that he saw Mickey Mouse on his birthday, a memory Tony Walsh will treasure forever.