Can you complete the giant assault course?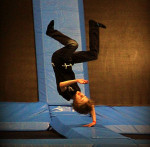 Who will get across the Wipe Out balls?
Who will win the Gladiator challenge?
Or who just wants to have some fun and raise some money too?
Children's Heart Association have exclusive use of the giant inflatables at InflataNation in Trafford Park on Saturday 12th May.  Arrive at 2:30 for registration.  All places should be booked via our TicketSource page (password posted to members on the flyer) and if you would like to be sponsored you can book a free place.  Click here for a sponsor form, and if you prefer you can also create an online giving page.  You can link it to our Virgin Giving Big Bounce event page.
Please read the safety information on the InflataNation website and bring a completed waiver form.
There will be an area where tired children can catch their breath before having another bounce.
Under 4s have a separate area.  Parents must supervise – but if under 4s wish to use the main area a parent must accompany them onto the inflatable area.